If you are seriously careful enough when camping, you will never get a chance to take your first aid kit out of your backpack. But as preparation is always good for any situation, it is all about the first aid kits essential to pack when backpacking or camping. While the market is full of pre-stocked purpose-built first aid kits, we are here bringing help to find the best camping first aid kits for your next outdoor adventures.
Medical emergencies while outdoors can really mean bigger than anywhere else. So only with the right kit, you can handle unexpected injuries. But when every option could not work for everyone, think about the finest option through the following aspects.
Content of the essentials: Your camping first aid kits should have the essentials like trauma supplies and medicine to handle any medical emergencies
The best quality: The medical kit you choose should contain high-quality materials
Fittingly sized: The first aid kit you pick should be perfectly fitting with camping style
You can find a waterproof bag and fill up medical supplies to make a custom first aid kit for camping, but it takes more time and extra money. Those who want to make it effortlessly can check with the 15 best first aid kits for camping to find a perfect solution for any possible medical emergencies while outdoors.
Thinking about the best first aid kits from hundreds of options in the market; let's read about them one by one.
Coleman Expedition First Aid Kit
If you are highly concerned about the budget, Coleman Expedition First Aid Kit can be an ideal option that preserves high quality overall. Coming in a rigid, durable case it fits well in packs on all outdoor adventures. Its weight is a plus and makes it a nice option in your gear.
Most of the low-budget camping first aid kits in the market are limited with the supplies it takes. But here, it includes high-quality essentials for a very reasonable price tag. The included ointments, tweezers, and also cold packs are usually hard to find in budget-friendly first aid kits for camping.
Product highlights:
Group size: 4 to 5 people
Weight: 15oz / 425g
Affordable first aid kit works for all adventures
205-piece kit
Includes organization pockets to keep gear
Comes with high quality essential supplies
Not waterproof and not working in wet days
Price: $19.00
Adventure Medical Kits .7
Targeting those who want to pack light in remote outdoor adventures, Adventure Medical Kits .7 comes under a very reasonable price tag. If I call it the best companion of backpackers, you would agree. It packs everything essential in camping first aid kits and being a waterproof design, it is one of the top options for light travelers.
Even this pack light, has everything you need covering a wide area of medical emergencies. So you will find supplies for sterilization and dressing a wound, supplies for blisters care, materials to care for burns, sprains, or even fractures. Also, it takes everything you need to handle common medical emergencies. Treating any illness while outdoors is easy with Adventure Medical Kits .7 and its bright yellow color bag makes it easy to spot inside your pack.
Product highlights:
Group size: 1 to 2 people
Weight: 6oz / 164g
Ultralight medical kit ideal for backpackers, hikers and those who want to travel light
Packs all the essentials to cover a wide range of medical emergencies
Affordable and worth its price
Waterproof design good for any weather
Slightly lacking proper organization inside
Price: $28.95
Surviveware Large First Aid Kit
If you are on family camping, it is essential to pack the one from the best camping first aid kits. The best is the Surviveware Large First Aid Kit which has more than 200 pieces working for groups of 5 to 8 people. But from the portability aspect, this is heavier and will not work for light packers.
The medical kit is packed in a durable polyester bag which has a "molle" outside to easily attach with backpacks or to jeep roll bars. And its inside has adequate organization thanks to its individually-labeled pockets. Packing all the essentials inside, it fits well in almost all medical emergencies. And for added convenience, it includes a first aid guidebook to confidently handle your medical conditions.
Product highlights:
Group size: 5 to 8 people
Weight: 3.3lbs / 1.5kg
Ideal for family camping/ longer trips
More than 200 pieces in the kit for a large group
Heavier and bulkier kit coming in a strong 600D polyester bag
Molle-compatible design for easy attaching
Pockets inside for better organizing of essentials
Packs all the essential first aid items and a guide book
Water-resistant bag and inner pockets
Price: $105.95
Surviveware Small First Aid Kit
If you are thinking about adding a smaller yet convenient medical kit to your pack, Surviveware Small First Aid Kit will be a great option with about 100 pieces. This is a compact, portable and lightweight kit to easily carry in your backpack. It is totally waterproof inside out and has been designed to last longer.
This medical kit is molle-compatible and made from 600D Polyester to work well in any weather. Taking organization as key support to market the kit, it includes labeled pockets inside the storage bag to help you find your gear easily. This is water-resistant and thanks to its laminate pouches, the inner content is all safe. Although it only takes 100 pieces, it covers the essentials together with a first aid guidebook.
Product highlights:
Group size: 4 to 5 people
Weight: 16oz / 453g
Molle-compatible and made from 600D Polyester
Durable, long-lasting design
Water resistant carry bag
Packs the essentials including trauma shears
Includes a first aid guidebook
Perfect organization with built-in pockets
100-piece medical kit
Price: $36.95
MyMedic The Medic First Aid Kit
If you have enough space to pack your gear and are not concerned about weight, MyMedic The Medic First Aid Kit is a great option among the best camping first aid kits. This is a perfect addition to your car camping adventure which is with everything you expect in a first aid kit.
You can find this medical kit with OSHA and ANSI approval for its value and functionality. It takes hospital-standard medical tools, trauma supplies, medications, together with guidebooks for complete medical care. In fact, it takes hundreds of essentials even including survival equipment. You can find it in backpacking style for easy carrying even if it is too heavy. It can be called a solid kit to handle a lot of different medical conditions.
Product highlights:
Group size: 8+
Weight: 23lbs / 10.4kg
Excellent for car camping or to preserve in base camp
Backpack-style bag supporting several compartments for better organizing
OSHA and ANSI-approved
Comes with hospital-quality reliable supplies
Expensive and bulky
Tri-fold design to see content at once
Too heavy for backpacking
Price: $120.00
Be Smart Get Prepared 326 Piece First Aid Kit
If you are camping in a group and thinking about the best camping first aid kits with enough material for everyone, Be Smart Get Prepared 326 Piece is a great fit. It works well for longer trips as it takes supplies for 100 persons. Thinking about a week-long trip in the Grand Canyon or a whole month trek into the Mountains; this medical kit can fit all well. This comes from a popular manufacturer of first Aid kits in the USA meeting FDA regulatory standards.
Its fully organized interior compartments make it well organized and make your access easy while the durable, solid plastic case is impact-resistant qualities. Packing all the essentials, it covers almost all of the medical emergencies you may encounter along with your excursion. It comes in a hard carrying case which is highly portable or can even be mounted on a wall if you have an exact place to locate it. So it works well for home use as well as just as ideal as for camping.
Product highlights:
Group size: 10+
Weight: 3 lbs/ 1.4 kg
Ideal for camping, sports, home and office
Contains excellent quality supplies for a wide group of campers
USA quality builds meeting FDA regulatory standards
Fully organized interior compartments
Durable, solid plastic case with enough space
Price: $37.00
Adventure Medical Kits Smart Travel
To keep good health during your travel, Adventure Medical Kits Smart Travel can be great support including a visual communication tool. If you are a travel enthusiast, this is a perfect option you must pack in your gear which is packed with all the essential travel-specific items.
The medical kit is coming in a durable and well-ordered carry case for high compatibility and longtime usage. The supplies it takes are hospital-quality and include everything needed like trauma supplies, different medical instruments, and more for dealing with injuries and various illnesses. And to make you more comfortable in handling medical conditions, it offers a guidebook to act quickly and easily in an emergency.
Product highlights:
Group size: 1 to 2 people
Weight: 17oz / 482g
Visual Communication Tool includes you to get medical support in any language
Travel-specific first aid kit
Includes a wide range of medical supplies to treat pain, stomach ailment, allergies and infections
Provides hospital-grade medical instruments
Effective first aid system in a properly organized case
A comprehensive medical guidebook
Slightly heavy for its group size
Price: $49.99
First Aid Only All Purpose First Aid Kit
If you are thinking about a budget-friendly and handy design for your quick camping trips in a small group, First Aid Only All-Purpose First Aid Kit is a perfect option for a very affordable price. It is worth its price with finely organized content. All together it has 299 pieces and most of them are adhesive bandages.
This thin design is fine in its quality although the majority of its items are with short life prospects. So you will have to replace the items within a year or two of continuous use. On the other way, this can be found in one of the lightweight camping first aid kits that fit well in the backpack pockets. But it is not totally water-resistant either. So it is good for casual short trips rather than long excursions.
Product highlights:
Group size: 2 to 3 people
Weight: 1lbs / 454g
Budget-friendly handy design
Includes 299 pieces and more number of bandages
Ideal for treating minor aches and injuries
Compact and lightweight to take in your backpack
Easy organization and access with the fabric case and clear plastic pockets inside
Worth its price but not working for larger groups
Not totally water-resistant
Some items are short in lifespan
Price: $20.00
Adventure Medical Kits Series Hiker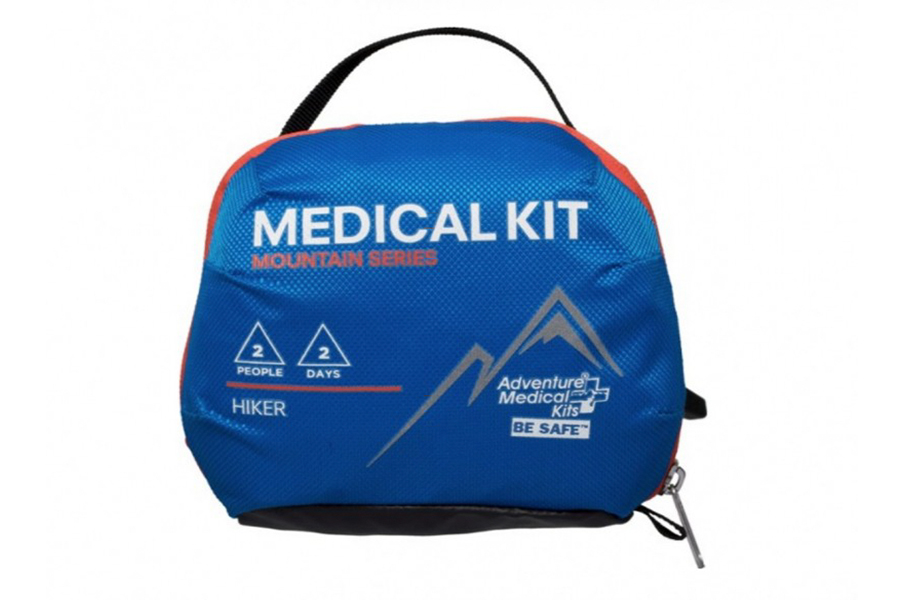 If you are a hiker, Adventure Medical Kits Series Hiker is the best camping first aid kit to pack in your gear which is from a well-popular brand. While the Adventure Medical team provides various first aid kits for various outdoor plans, we find this a very smart option when hiking. All the content provided is high in quality and has no change in its case.
This is solidly built for outdoor use and it comes with labeled pouches inside that are zip-shut for correct organization of the supplies. So you can keep things just as you want for easy access. Being very lightweight, it can easily pack in your backpack with all quality content from the best suppliers. But here, it is only adequate for basic medical care for only a small group of people. So there is no coverage for high-level trauma care. However, it is a good option for its price which is highly portable.
Product highlights:
Group size: 1 to 2 people
Weight: 7.2 oz/ 204g
Best first aid kit for hikers
Quality case and supplies
Labeled pouches with zip shut for proper organization
Extremely lightweight and compact
Includes high-quality supplies for basic medical care
Durable, water-resistant bag
Not sufficient for high-level trauma care and large groups
Price: $25.00
VSSL First Aid Mini
We usually find camping first aid kits coming in fabric pouches. But here, VSSL First Aid Mini is a different option which is packed inside a military-grade aluminum cylinder that is roughly the size of a 12-ounce water bottle. But inside this small, thin pack, it brings the medical essentials. Inside the kit, you find 4 supply tins labeled with their content for better organizing and easy use. They are as, clean-cut and cover, tools, trail marking, and outdoor essentials.
Thanks to its metal build, you find this kit totally waterproof and hard-use with no trouble with its supplies. It has 41 essentials, including adventure tape, bandages and gauze pads, disposable thermometers, and also basic ointments. For its price, most of the users believe it should have packed better quality content also with more additions. But from the compact view, this is a good option for small trips.
Product highlights:
Group size: 2 to 3 people
Weight: 9.9 oz/ 281 g
Comes in a solid waterproof case
Well-organized with separate 4 supply tins labeled with content
Include 41 essentials
Good for small groups not exceeding 3
Lightweight and compact design
Fairly good content including thermometer and a sewing kit
Low quantity of certain medical items
Slightly expensive than some other kits
Price: $70.00
200-Piece Kit for Camping & Outdoor
Making an essential medical kit for camping, hiking and outdoors, 200-Piece Kit for Camping & Outdoor comes with quality, medical-grade content. While this is ideal for small wound care and minor bleeds it will not work well in heavy trauma. However, as a medical kit takes all the basic medical supplies, it is popular among outdoor enthusiasts.
Just as the name implies, this is a 200-piece kit. What makes it more worth it is thermal mylar blankets and the magnesium fire-starter which are important to create warmth. So this can be recommended for cold-weather camping.
The kit guarantees handling emergencies well with included compass, fishing kit, and whistle. With those, it works well for hikers and campers who are on remote recreational events. Also, the kit comes with a mouth-to-mouth resuscitation device that is needed when performing CPR. This compact and lightweight kit is worth its price even though it does not work in heavy trauma.
Product highlights:
Group size: 4 to 5 people
Weight: 12.1 oz/ 343 g
Good for home, camping, kitchen, sports and outdoor
Helpful in remote recreational events
200-piece kit with a lot of essentials
Lightweight and portable design
Good to handle small wound care and minor bleeds but not heavy trauma
Ideal for cold-weather camping with included thermal mylar blanket and the magnesium fire-starter
Swiss Safe Guarantees for customer satisfaction
Price: $60.00
Monoki 302-Piece Kit for Outdoors
Covering up a wide range of medical emergencies, Monoki 302-Piece Kit for Outdoors comes with basic and all advanced supplies. It really works well in remote adventures with included outdoor tools like paracord bracelet, multi-tool, and tactical flashlight. Thanks to well-organized supplies, it can even manage your complex medical situations smoothly.
All these 302 essentials are packed in a handy rip-away emergency pouch, which is perfect for transport even for longer distances. Thanks to the rip-away feature you can even hand it outside the pack saving space for something else inside your backpack. It is lightweight and highly portable too. Plus, it is coming in a sleek and military professional design with two color options.
Product highlights:
Group size: 5 to 10 people
Weight: 2.1 lbs/ 952 g
Sleek and military professional design
Super durable pouch with best organization of supplies
Molle system support for better compatibility
High functionality and convenience
Include the essentials together with survival tools
Working for a lot of medical emergencies but not perfect for heavy trauma
Portable size
Price: $20.00
Coleman All Purpose 27 Piece Mini Kit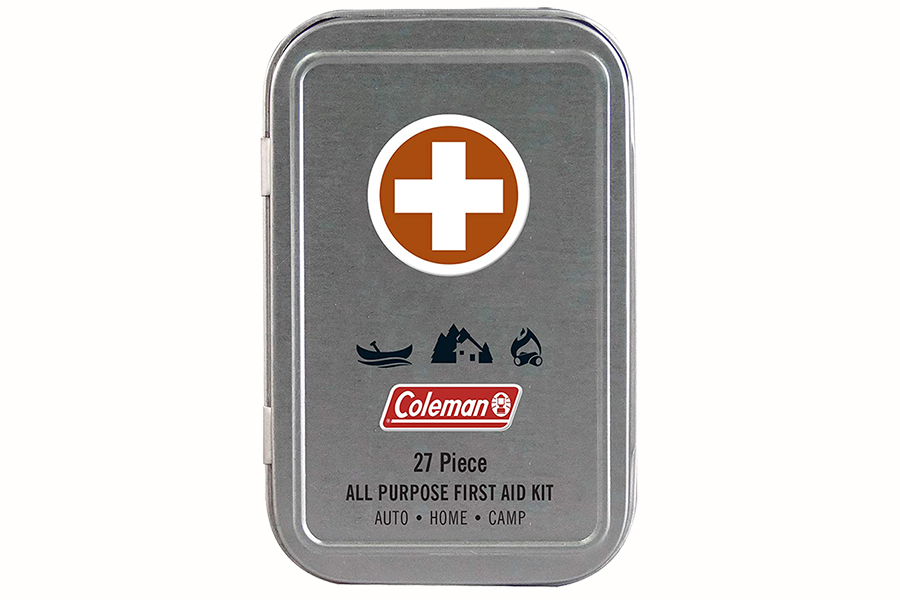 This Coleman All Purpose 27 Piece Mini Kit is a smart kit you can take for travel, car, and sports with 27 essential pieces. It takes commonly useful first aid for minor conditions including items like antibiotic ointments, bandages, and more being a handy pocket-size kit. For its price, this is a value kit that you can easily add to your pack.
The case is a crush-resistant metal tin for added durability and it is highly compact. If you are extremely concerned about weight, this is an ideal pick even for longer trips. But it will only pack supplies to handle minor medical emergencies. And in case you feel like adding something extra to the kit, it will be hard with its small size and you will have to stick with the basic supplies.
Product highlights:
Group size: 1 to 2 people
Weight: 2.08 oz/ 58.97 g
Comes with latex free bandages, antiseptic wipes, and antibiotic ointment
Include useful first aid for minor conditions but not heavy trauma
Durable, crush-resistant and water resistant metal tin
Lightweight and highly compact
Pocket fit size to take anywhere you need
Brings the basics and could not add extras easily
Price: $7.00
First Aid Only First Aid Outdoor Kit
If you are a fan of the best camping first aid kits that are small in size, First Aid Only First Aid Outdoor Kit can be a big hit for you. This is an easy-to-use kit that simply opens up like a book to let you see everything it takes. With this 205-piece kit, you can confidently adventure in camping, hiking, marine, or can keep for home and auto use.
The size of the medical kit is compact and when opened up you will be able to notice well-organized supplies in clear, separate pockets. Just like the well-organized interior, its bright exterior is too pro, helping with easy spots even in dark. It is also durable and can be used for a considerable time making it a value purchase for its reasonable price. For any quick medical treatment, this is a perfect kit to have on with all the basic essentials packed in.
Product highlights:
Group size: 4 to 5 people
Weight: 1.15 lbs/ 522 g
Ideal for camping, hiking, or any outdoor adventure
Compact and lightweight
Include essential 205 pieces for medical emergencies
First aid guidebook included
Durable exterior
Well-organized interior with clear pockets for individual item
Price: $20.96
I Go First Aid Kit
This is a handy medical kit by "I Go" offering you 89 essential pieces in a small and convenient pouch. I Go First Aid Kit is ideal for solo campers, hikers, or any individual with essentials packed in. The items include gauze pads, medical tape, differently sized and shaped bandages, tweezers, and also an ice pack. Overall look, it has a lot for an individual.
The medical kit is of threefold design which is for easy packing in your gear without taking much space. And thanks to its lightweight, you can take it anywhere you want with no complaints. Even if it is not for heavy trauma, it can work well in handling common cuts, minor aches, scrapes, and injuries. At any emergency, you can take quick access to the supplies with proper organization inside and wide opening zippers. And with its aluminum carabiner, you can hang it in different ways for more convenience.
Product highlights:
Group size: 1 to 2 people
Weight: 0.35 lbs/ 159 g
Lightweight and compact design
85 essential, quality medical items
Nice pouch with proper organization inside
Easy access with wide opening zippers
Water resistant pouch to take in any weather
Aluminum carabiner to hang easily
Packs sufficient supplies for an individual to manage with minor medical emergencies
Limited in some supplies like no pain medication or ointment
Price: $11.89
Best camping first aid kits buying guide
First aid kits for camping are essential pieces of gear to add to your list as prevention is always advised when far from home. But as they are quite complex in terms of their content, there are different features you should check before buying one. From years of camping experience, we find the following aspects helpful in making a great choice from the best camping first aid kits.
The purpose of usage
The market is full of different first aid kits intended for use. In fact, every first aid kit is made with a certain usage plan in mind. By knowing that only, you can buy the best camping first aid kits for you. Identify the specifications and limitations of your purpose of usage.
Backpacking or hiking: First aid kits for backpacking or hiking are smaller in size focusing only on the primary supplies. It should be small enough to fit in your backpack with minimal weight. If you can find one with OTC medications and first aid guidebooks under 1lb, that will be really working for your purpose
Family camping: When you are on family camping, weight and compactness are minor concerns compared to backpacking. So here you can find a medical kit with everything included to handle minor to heavy trauma. These can be big and heavy but will cover all the medical requirements with an adequate quantity of supplies
Watersports: If you are planning to spend time with watersports, you should look for a medical kit that is waterproof and can keep dry. Buy a completely waterproof kit that comes with trauma essentials to handle possible water sports injuries
Travel: For those who travel often need a perfect first aid kit that takes medications for common travel ailments. For travelers, gastrointestinal diseases are common, and think about a medical kit prioritize medications for those conditions over trauma essentials
Basic essentials should contain
Different first aid kits come with different pieces. It is up to you to decide what supplies you should look for according to the purpose.
Following are some of the needed medical supplies you can find in the best camping first aid kits.
Gauze: Every first aid kit should take various sizes of gauze that are very much needed for stopping bleeds
Nitrile Gloves: Non-latex gloves should essentially packed to protect user and stop disease spread
Tweezers: Essential in the first aid pack for take away ticks and particles
Bandaids/ Bandages: Help to keep open wounds sanitary and reduce the chance of infections
Quality of the content
A first aid kit is a piece of gear that you have to use only when needed. But you must ensure the content of your medical kit is hospital-grade to verify the quality of your camping first aid kit. Highly focus on the quality of trauma shears, splints, tourniquets, and bandages which otherwise will not work if made of bad quality. While going through the information about medical kit supplies, also take certifications like OSHA and ANSI for further verifications about the quality of content.
Carrying case of the medical kit
When you are choosing a first aid kit for outdoor use, you must think about the durability of the carrying case for its best use. You will find options like Surviveware Large First Aid Kit with sturdy 600D fabric or Hard-sided options, like Coleman Expedition First Aid Kit. And if you are going to wet surroundings, think about a completely waterproof design to ensure the highest safety of the items inside.
Number of pieces in best camping first aid kits
The number of pieces each medical kit contains is one important concern to measure out the value of the kit. But rather than more individual pieces, a set of something that is also counted as one is more valuable. For example, a set of trauma shears are more valuable than a single bandaid. If you are thinking about the count, check both the content and count of each to find the best value for your money.
Being careful enough in the wilds is the best protection you could ever have; but no harm of getting ready with some supplies. So get prepared with the best camping first aid kits worth the price.