When you're camping, a kettle is an essential item you should bring. When you want to be hydrated while camping, bringing a kettle is extensive. Therefore, a kettle can be an essential item in your camping equipment. When boiling water for making tea or any other work, you will need a kettle.
It is very important to choose the best camping kettles, or else, your camp trip will be the worst for a simple reason. We bring you our best collection of camping kettles. If you are looking for the best and most advanced camping kettle, read more about it. 
If you are planning a camp trip, a kettle has been added already. So here you will have the best explosion of camp kettles, and you can choose the perfect and most suitable kettle that fits your budget.
Fire-Maple Tea Kettle
This kettle is very strong and easy to clean. You will receive a bag with mesh and also a tea filter with this kettle. The heat efficiency is 40% and this product is so modern and it has an orange handle and a matte black surface. This kettle is so perfect if you are planning to have a family or solo camper.
The product is lightweight and is easy to take for traveling, hiking, fishing, and any other outdoor activities. This is so perfect for making coffee, tea, camp meals, and boiling water for drinking as well.
Product specialties;
Made of-Hard Anodized Aluminum with a stainless steel handle with nylon coating
Price – $34.95
Capacity – 1.5 Liters
Pros, 
It can hold heat well.
It has a large capacity.
Cons, 
Lids fall easily.
Water boils slowly.
Kelly Kettle Camp Stove With Camping Kettle
If you are looking for an environmentally-friendly camp kettle, The Kelly kettle camp stove is the best for it. It has a bright green lid itself, and hence, it looks unique among other kettles. It can boil water within a few minutes and can rehydrate or cook meals. You can use natural fuel such as sticks or grass.
As we know, if we have to use specific fuel for a kettle, we need to buy a fuel canister and it may require more room and can be pretty costly. But being able to use different types of fuel helps you to prevent this issue.
This is made of anodized aluminum. It has durability and resilience. When you buy this, it will come with a handy carrying bag. If you love camping, fishing, or any other outdoor activities these types of kettles are best for you.
Product specialties;
Made of- anodized aluminum
Price- $89.99
Capacity- 2.5 cups
Weight- 1.3 pounds
Pros; 
Less weight
Fast boiling water
Can use any type of fuel
Cons; 
Doocooler Camping Kettle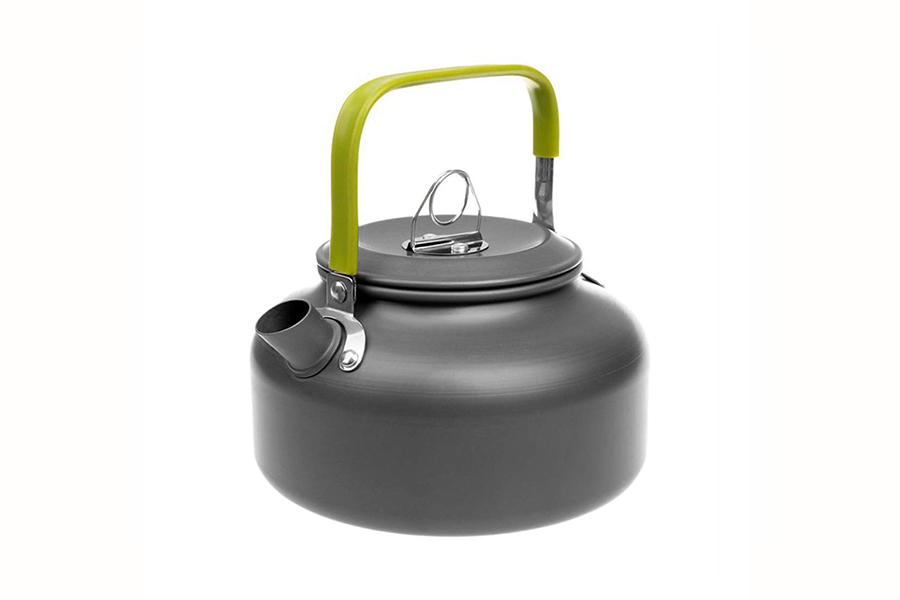 If you don't want to spend a lot of money, the Doocooler water kettle will be a perfect choice for you. Though this kettle is less expensive the quality is high as well as other camping kettles. This traveling kettle is made of aluminum alloy and hence, this is very strong. The oxidation film coating of the inner and outer increases strength and resistance to heat.
Being lightweight is another good quality for camping because you can easily carry it. And this is a classic shape, compact and exquisite size. Aso the Docooler kettle has good thermal conductivity. You will receive a mesh bag for caring and this is so easy to store. If you love camping, hiking, fishing, or any other outdoor activities this kettle is best for you.
Product specialties;
Made of- aluminum anodized
Price – $17.99
Capacity – 1.1L
Weight – 173g
Pros; 
Lightweight
Made of strong metal
Less of expensive
High quality
Cons; 
A chemical smell can occur
Small capacity
Collapsible Camping Kettle
The kettle is highly designed for hiking and camping. This can save space according to the way it is made. It is designed from BPA- Free silicone and this form helps to collapse this and save space. So travelers highly expect this quality. It is only 2.2 in tall and it will save space. Although it is made out of silicone a stainless steel base is also there.
This kettle is easy to use due to its collapsible quality and lightweight. You can use a gas and induction store for this traveling kettle. It has a bright green and, keep it in mind to not to lose it while traveling in forests.
Product specialties;
Made of- silicone and a layer of stainless steel base
Price- $19.98
Capacity- 42 fluid ounces
Pros;
Saves space due to collapsible
Heats water fast
Need induction or gas cooking
Made from BPA- free silicone
Cons; 
Induction cooking quality is iffy.
Travel Foldable Ultrathin Upgrade Electric Kettle
If someone is not completely cut off from electricity this kettle is best. Because of its electrical features, it is different from other camping kettles. This kettle is made of BPA-free silicone and has dual voltage control. It can boil water within four minutes and its height is about 3.5 inches.
This is made of safe and good protective material BPA-free. The heating plate and kettle lid are made of 304 stainless steel. The only thing you have to do is, just press the button, then water will be boiled in 3-5 minutes. The other advantage is, once the temperature is below 75 degrees, water will be self-heated.
Also, you can detach the power core and handle from the kettle body, easier to store and more unimpeded to pour water.
Product specialties;
Made of- silicone
Price- $48.89
Capacity- 0.5L
Voltage- 700watt
Pros; 
Easy to use
Convenient and portable
Can adjust voltage
Cons; 
Can not be used without electricity
Only holds 6l
Quest Low Wattage Compact Electric Collapsible Camping Kettle
It has small power about 1.6kw. It says that it will boil water without any doubt about your electricity. These kinds of small kettles don't require too much power to boil water quickly because they can not hold more water in them. It will boil only 1L at once and when you make tea or coffee 3 or 4 cups can be made from it.
It will let you see how the water is boiling inside with its light-up glass and quiet soft blue light. The low wattage draws less power than a standard kettle. It does not mean that it is a trouble to use in a campground, it says that it's best for use in outdoor activities and cheaper to use. It's easy to store because of the law capacity. The kettle is cordless.
Product specialties;
Made of- glass side
Price- $24.99
Capacity- 1L
Weight- 0.95kg
Pros; 
Fast boiling
Use a pretty little electricity
Cons; 
Can't boil more water at once
Can't use without electricity
Russell Hobbs Kettle Electric Collapsible Camping Kettle
This electric kettle fills all the essential features that everyone considers. It has clear, rushed, and polished stainless steel as its color. It is about 11.4×18.9×21 cm in size It can hold 0.85L of water and, from that, you can make several mugs of tea by this. You can easily store it in a cupboard or camping gear storage box due to its small size.
Power consumption is to be low at 2.2kw. You can see how the water is boiling through the clear glass jug. It will require a small space in your kitchen because of its design. You can make 4 cups of 200ml from 0.8L of water. The illuminated light ring gives a blue glow when water is boiling.
You can fill and make empty the kettle without any effort, by pushing the button of the lid. Also, the jug can be removed from the electric supply and it's quite safe.
Product specialties;
Price- $35.99
Capacity- 0.8L
Watts- 2200watts
Pros;
Easy to store
Boils pretty sizable amount of water
Safe
Cons;
Can't use without electricity
MSR' Titan Titanium Ultra-Lightweight Camping Kettle
The kettle will be a little expensive than other kettles we have mentioned, but it is good in quality and last a lifetime. It is made from titanium. Therefore it has a high strength-density ratio. The MSR Titan camping kettle is 118g in weight. So, you won't have any trouble caring for it. Also, it will get a small space to store.
The kettle can hold 0.85L of water. The Titan kettle has a titanium pot with a spout in the rim and a thin dual handle. The handle helps to lift easily. Though this handle gets flimsy, it won't get too hot. Also, you will receive a lid with a separate handle.
The MSR Titan kettle is perfect for boiling water, cooking, and boil meal bags.
Product specialties;
Made of- Titanium
Price- $132.25
capacity-0.85L
Weight- 118g
Pros;
iBasingo 1.4L Titanium Camping Kettle
Wherever you want more capacity and more liters to boil, I Basingo 1.4L camping kettle is best for you. The kettle has a quantity of 1.4L and has a 190g weight. It is made out of ultralight and durable titanium, so it is sturdy. You can carry it easily because of its lightweight. It can save space as well.
It can fulfill your day-to-day needs while camping and is perfect for picnics and family camping. The handle and the lid will protect your hands from heating.
Another extended quality is, you can boil water from keeping this kettle on the fire. It means you don't need electricity as other kettles need. So this kettle is best for outdoor activities, but you must need water for cooking.
Product specialties;
Made of- titanium
Price- $56.9
Capacity- 1.4L
Weight- 190g
Pros;
Lightweight
High capacity
No need electricity
Primus Litech Aluminum Camping Kettle
It is made out of hard-anodized aluminum and titanium. Therefore it's strong, lightweight, and durable. It has a 0.9L capacity and 178g of weight. The height is 15.2*7.8cm. Considering and comparing this kettle with the MSR Titan kettle, both have the same capacity. But, 60g of change between them.
It has a circular design, a snug-fitting lid, and a folding handle. A folding handle will help you to save space. It can't use on an induction cooktop due to its form of making. Induction cooktops only work with magnetic pans. If you want to set this on an induction cooktop, you can get an induction interface disk.
The is kettle also works with glass or ceramic utensils.
Product specialties;
Made of- aluminum
Price- $23.98
capacity-0.9L
weight-0.18Kg
Pros;
Cons; 
Can not use an induction cooktop.
Tentock Outdoor Aluminum Camping Kettle
The product's material is highly anodized aluminum. This metal is wear-resistant and corrosion-resistant. It has a folding handle that is covered with silicone. The silicone handle is insulated. The insulated handle will protect your hands from heat. It can increase the efficiency by 30% and speed up the cooking process. This increases efficiency through energy saving.
At the bottom of the kettle, there are air vents and a heat accumulator. It helps to increase the adequacy and boiling time. You need to pay 5-6 minutes to make a coffee or a tea.
The efficiency reduces the boiling time. Also, it reduces the quantity of fuel you have to burn. Because of the lightweight, no need to worry about carrying. It is matched with a mash pocket well.
So, the kettle is so perfect for many outdoor activities such as picnics, hiking, and fishing.
Product specialties;
Made of- anodized aluminum
Price- $25.99
Capacity- 1.6Kg
Weight- 210g
Pros;
Lightweight
No need electricity
NGT Aluminum Camping Kettle
When you are making the list of your camping trip, and you need a low-budget kettle for the trip, the NGT Aluminum camping kettle is recommended.
It is available under more brands, but more expensive too. However, it does not have the same goods as primus or Tentock but the job of boiling water is quite fascinating as well.
It has a capacity of 1.1 liters, 260g weight, and the highest is 16.4*15.8*9.4cm. The color is gunmetal grey. And the kettle is great as a stove when fishing or bivvying.
So, you won't have to complain about any issues about leaking around the handle rivet near the spout, because the NGT camping kettle does not have it.
Product specialties;
Made of- Aluminum
Price – $16.95
Capacity-11L
Weight-2.6kg
Pros;
Do not need electricity
Best capacity
Cons;
Ridgemonkey Square Aluminum Camping Kettle
Ridgemonkey square kettle is making for campervan owners due to their fabulous dual-pan gill. According to this, a super surface is provided by this square shape. And this is based on a typical camping stove or BBQ. therefore faster boiling 1L version has a height of 17.*&*11cm
It has a unique design and is lightweight. It is made of anodized aluminum. Have a big surface is another marvelous feature. When you are packing things, you can load this neatly into a limited space.
It gives a fresh look to equipment that did not change through hundreds of years. The kettle offers two fascinating folding handles on the top. And the slight look is military. You can find a 0.5L version of this. It is half the height. And there is no other kettle in the market like this
Product specialties; 
Made of- aluminum
Price- $27.99
Capacity-1.1L
Pros; 
Folding handles
Available in 2 versions
Can use without electricity
Pykal Stainless Steel Whistling Camping Kettle
Are you boiling water in a microwave for tea? Or else do you use a normal bowl to it?
It is a good idea to get everything you need from your tea leaf. You will need a kettle for that. The other good news is this is not too much expensive. The kettle is with fresh protection technologies and the handle cools down after a few minutes. In here no need to touch the heated metal part. Because the handles are insulated.
The kettle is made out of stainless steel and there is an iron layer, between two aluminum layers. This will boil water fast. And, comfortable with all stovetop inductions.
It has a 3L capacity and is wrapped with an attractive gift box. You can make tea for your entire family, and you will hear a whistle after boiling water. If you are planning a family trip or camping, this is best for you.
Product specialties;
Made of- stainless steel
Price – $39.99
Capacity-3l
Weight-1360grams
Pros;
Can contain more water
No need electricity
BioLite Kettle Pot
The BioLite kettle is more than a kettle. It's made of thin stainless steel and does not scratch easily.
It's 567g of weight. Yes, it's a bit heavy than the other kettles we have mentioned earlier. But, overall it has a lightweight build. Ti comes with a set. In there, silicone painted handles, a bowl, and a pout spout lid are included.
It's versatile. That means, it can work all work together. To reduce the space, the BioLite kettle is fit to the camp stove.
The capacity is 1.5L. It has BPA-free High Temp Top. the silicone seal below the temp top helps you to keep liquids secure and pour without spilling a drop. The ultrathin stainless body is safer than aluminum cookware. The heat shield concentrate flames and block wind.
Product specialties;
Made of- stainless steel
Price- $43.65
Capacity- 1.5L
Weight- 567g
Pros;
Packable design
Silicone coated handles
Cons;
GSI Outdoors Halulite Kettle
GSI outdoors kettle is so good and can easily use in outdoor activities. The body of the kettle is made of rigid anodized halulite. The kettle is designed to distribute the heat and make it hot quickly. The kettle is abrasion-resistant.
Are you looking for a lightweight kettle? GSI outdoor Halulite kettle might be fit to your choice. It is 163g in weight. It can contain a 1L water capacity.
The spout is short and a packable handles. The handles are made of plastic and your hands will be protected by that. When you are packing, fold the handles down. The GSI outdoor kettle is designed to hold camping stoves. So, you can pack it when it gets cool.
Product specialties;
Made of- halulite
Price – $37.50
Capacity- 1l
Weight- 163g
Pros;
Packable designed
Lightweight
Cons;
Hi-Gear Collapsible Stove – Top Camping Kettle
If you want to save the space of your rucksack or the campervan, it is better to consider this kettle. The kettle is offering from Hi-gear and it is excellent.  It can fold up and be extremely small – only 15*21*5.6. It boils 1.5 liters per once. It gets 380g due to its stainless steel.
The kettle uses plastic to its handle and filling lid, and for the collapsible body, it uses silicone. It can be used on the open stove. You must be looking after the flames must not rise around to the base because it could melt the silicone.
It is coming from a lime green color. You can pack it quickly and open it in a second.
Product specialties;
Made of- silicone and stainless steel
Price – $18
Capacity- 1.5L
Weight- 380g
Pros; 
Cons; 
Chihee camping Kettle
A kettle is essential for camping and hiking. You will need a hot teacup if it is in a cool condition. The chihee camping kettle is best for this. It is made of stainless steel and, can old 1.2L. The weight is 340g. 1.2L is full water capacity and 0.7L is moderate water capacity. The highest is 12cm.
When considering the features, it has a round handle which is specified for pouring and hanging over the fire. Also, you can bring this kettle in picnics and enjoy instant noodles.
The foldable handles will protect your hands from burning. Also, this can be used as a hanging pot for campfire heating.
It is durable and made of stainless steel which can stand high temperature, and get heat quickly. So, you can boil water quickly as well. The kettle is s perfect for outdoor trips, camping, fishing, or any other outdoor activities.
Product specialties; 
Made of- stainless steel
Price – $29.98
Capacity-1.2l
Weight- 340g
Pros;
Sea to Summit Lightweight Collapsible Stovetop Camping Kettle
The sea to summit camping kettle is lightweight. It has anodized aluminum in its base and the kettle is durable. The anodized aluminum base spreads the heat. Also, it has a collapsible BPA- free silicone side.
The clear lid and strong Nylon Handle can be used as a kettle or a food heater. When you are packing the kettle, the design of silicone material helps the kettle to be collapsed. That system will save space. The height is 90mm, and it can hold 1.3L
You can use it without the lid also. The stronger nylon handle will give the user extra handling stability. Also, it can be folded down flat when it is collapsed. When it is packed away, everything is tied with silicone tape.
You can use this kettle on a small gas or an alcohol burner. The base of the kettle is wide enough to hold the flames.
Product specialties;
Made of- anodized aluminum
Price- $63.98
Capacity- 1.3L
Weight- 186g
Snow Peak Kettle
The kettle is manufactured and designed in Japan. It is made of stainless steel. If you add a snow peak kettle to your camping set, it will help you to make tea and coffee.
The capacity of the kettle is 1.8L, and it has strong handles and, locking spout cover. Also, it has a loop for hanging and, it will make easy pouring.
The kettle is versatile. You can make a meal for a person by using this. Also, you can use this as a jug.
Product specialties;
Made of- stainless steel
Price- $99.95
Weight- 690g
Capacity-1.8L
Chefbar Kettle
According to the design of the kettle, it can control the water flow. You will need a smooth water flow to make tea and coffee. So, by this Chefbar camping kettle, you can have that.
It has a 0.8L capacity, 4-tea-cup size. The kettle is made of premium 304 stainless steel. And, it will make it more durable and rust-resistant. Also, it is lightweight. So you can bring it easily.
If we consider the features; the slip-resistant grip will make sure that the kettle does not slip when you making tea or coffee. You can use this kettle on, induction cooker, electric furnace, gas, and natural gas stovetops.
Also, if you want to save energy, use this kettle on small or medium heat.
Product specialties; 
Made of- stainless steel
Price- $20.99
Capacity- 0.8L
Weight- 1pound
Pros;
A foldable design
Durability
Have a lid
Cons;
Small size
Handles may get hot
Buying guide for Camping Kettles
Camping kettles come in different kinds of quantities, colors, and shapes. You have to know everything about these things if you want to be satisfying with the product that you want to buy.
Kettle material
Kettle design
Handle material
Kettle size
Kettle material
There are so many kinds of kettle materials. But aluminum, titanium are more common. Some manufactures use glass but we know that it is not safe. The main feature that we should consider when we buy a kettle is the material. The material should not be that heavy. Because the travelers need to carry the kettle with them even it is a hike.
Titanium kettles are lightweight. Anodized aluminum kettles are a bit heavy than titanium.
Kettle Design
A kettle can be short or thin. This design is depending on the purpose that the customer expects from the kettle.
As an example, if we take the BioLite kettle, it is lightweight and easy to carry. So the production team of that kettle is made that according to those features. It is thin and elongated and appears like a thermos.
Also, some kettles are made as they are foldable. With that feature we can carry it without any trouble and, it saves space as well.
Handle material
heat resistant. Most manufacturers use silicone, nylon, and plastic or glass for the handle is an important item of the kettle. In every kettle, the handle should be handle. By using those materials we can protect hands from the heat.
Durable does not melt easily and, comfortable are the reasons to use silicone to the handle.
Silicone- it is the most famous material due to some reason. It doesn't melt easily. It is comfortable and it is durable. 
Nylon- is common, but it has a lower melting point.
Kettle Size
In a camping kettle, the common size is about around 1L.  However, you have to consider both weight and capacity.  Because there are some kettles which have a high weight and low capacity. That is not worth it. So, folding camping kettles are better if you pay more attention to how to save space.
Read More: