Having the right Hammock of your choice is not enough to make the best hammocking; it has more aspects to consider making a complete setup. Your hammock is not going to be hanging by itself; yes, you need to provide the right support with the best hammock straps for camping. Here we bring you the top 9 options.
The right investment in quality straps for your hammock is vital. If not, you never go to be relaxing in your hammock. Leaving no chance for unpleasant surprises by getting straps breaking or sagging, do consider the following when you are going to buy hammock straps for yourself.
Hammock suspension systems: Look how they function and of what they are built with
Strap length and thickness: Important on what type of hammock going to be hanged
Strap materials: Reflects the durability and quality
We outline all the highlights you must know under each product. Go through all the 9 best hammock straps for camping and find what fits you.
Kammok Python 10 Hammock Straps
Dimensions: 10 ft 2.5 in. x 1.5 – 0.75 inches
Packed Weight: 8.2 oz / 232 g
Weight Limit: 500 lbs / 227 kg
Price: $29.00
Kammok Python 10 Hammock Straps is our top pick with the best specs in every way. You find this tree-friendly hammock straps lighter and longer at the same time with a higher weight limit. This highly adaptable strap has more attachment points making it easier to use.
Using Nano weave technology is used by weaving each of the daisy chain connection rather than the old-fashioned bar tacks. This adds extra strength and drops the weight. And here, Kammock offers a lifetime warranty for their top-rated hammock straps to use with high self-assurance.
Product highlights:
One of the best tree-friendly hammock straps
Lightweight and longer providing a higher weight capacity
Very compact design to fit well in the backpack
Nano Weave technology to add more strength and cuts weight
20 points of connections
Improved reflectivity with tracers woven into the webbing
Lifetime warranty by Kammock
MalloMe XL Hammock Straps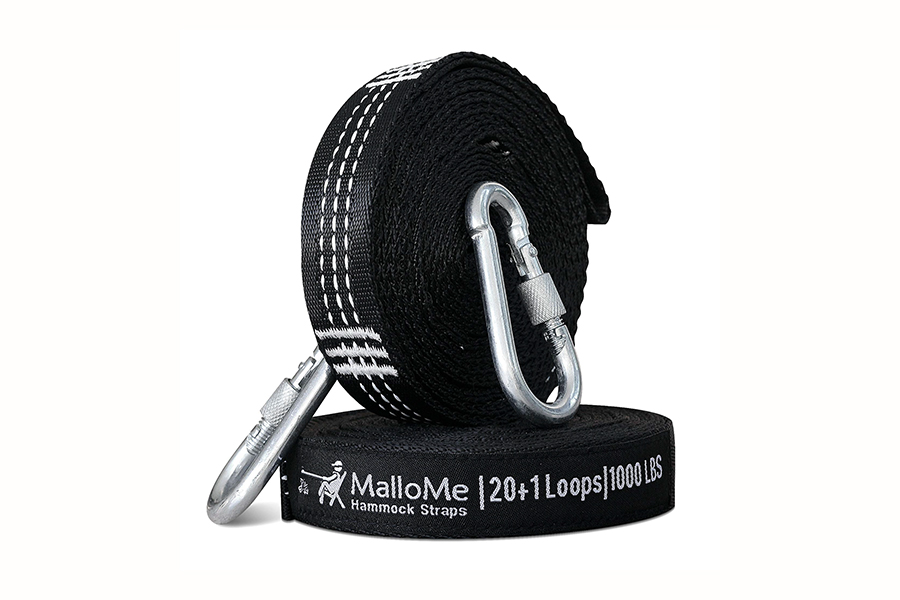 Dimensions: 12 ft x 1.5 in
Packed Weight: 16 oz/ 453 g
Weight Limit: 700 lbs / 317 kg
Price: $16.99
If you are looking for a high-value product for camping at an affordable price tag, MalloMe XL Hammock Straps is a perfect addition to your gear. Setting the hammock with these hanging straps will take less than a minute and tear down is too easy with no complications. And with a daisy-chained loop system you can adjust it easily to the required height and will hang comfortably with no stretching.
This is very long for even big-trunked trees and supported with enough loops. You can try different hang-angles wherever you like taking comfortability the priority. And with triple stitching, it ensures that you never going to be falling off. Both single and double parachute hammocks are compatible with this set of 2 straps and it comes with two free locking carabiners.
Product highlights:
Very long with 20 attachments loops on each
Triple-stitched polyester webbing makes them strong enough
Two lockable carabiners included
Easy to set up and instructional guide included
Very affordable and value for its price
Rallt Hammock Tree Straps
Dimensions: 10 ft x 0.75 in.
Packed Weight: 12 oz/ 340 g
Weight Limit: 500 lbs/ 227 kg
Price: $15.99
For your best hammocking trips, Rallt Hammock Tree Straps can be a perfect set of straps with fair weight and high durability. Even these are not the lightest hammock straps for camping they are compact enough to fit in a touring backpack. These 10ft (each) straps can easily accommodate big trees and can even span a distance. Its multiple straps are supportive of greater distances leaving for the best hammocking experience.
As one of the best hammock straps on amazon, these only take a second to set up with no complicated knots. It uses a daisy-chain loop system letting a strong setup and its reflective stitching makes it easier even to set up at night. This is one of the best hammock straps for camping with compatibility for almost all hammock brands in the market today.
Product highlights:
The duo of aluminum wire gate carabiners coming in the pack
Very strong and durable
Features 18 loops on each to connect
Set up in seconds with a daisy-chain loop system
Reflective stitching makes it visible at night
Extremely affordable
Lightweight and compact design
Sea to Summit Hammock Suspension Straps
Dimensions: 9ft 10 in. x 0.6 in.
Packed Weight: 6.0 oz / 170 g
Weight Limit: 300 lbs / 136 kg
Price: $14.99
Sea to Summit Hammock Suspension Straps is a minimalist approach to hammock straps supported with a quick-connect buckle system for all easier setup and adjustments. The purpose of Sea to Summit is to make this a light option in your whole hammock set up with minimal pack size.
When choosing one it is better to think about leave no trace hammock straps. And here the one from Sea to Summit is sometimes not acceptable with all park regulations as they are of thin webbing that may harm tree trunks. Despite that, this non-stretch webbing slide along efficiently through buckles that are high-quality and made of aircraft aluminum alloy. Also, these are made of reflective thread to easily notice at night.
Product highlights:
One of the best budget options in the market
Extremely compact hammock straps for camping
Lightweight hammock straps in a minimalist design
Lightweight and durable buckles
Extra thin webbing could sometimes harm the bark of the tree
Comes with a stuff sack
Hummingbird Hammocks Tree Straps
Dimensions: 8 ft 4 in. x 1 in.
Packed Weight: 1.55 oz/ 44 g
Weight Limit: 400 lbs/ 181 kg
Price: $29.95
These USA-made Hummingbird Hammocks Tree Straps are made for ultralight packers with only 1.55 oz weight. This packs down small just right fit into your hand of which the webbing is of thin Dyneema. Made of this material means this product is lightweight and durable and everyone in the camping community knows it for its quality.
Here, the Hummingbird hammock straps use a whoopie sling system that makes it easy to adjust even when it is hung. And as to the Hammock straps reviews, this makes it easier to set up even over a standard daisy-chain one. You find this with 8ft long each strap making you somewhat limited in tree selection. This is the only downside of this hammock strap when most of the other ones are a foot or two longer than 8ft. However, this is a superb choice for backpackers and ultralight campers with a good weight capacity too.
Product highlights:
Uses whoopie sling system for easy setup
Extremely lightweight
Packs down very small for the best fitting size
Longer enough with 8ft each and have a higher weight capacity
Only suitable on limited tree sizes with 8ft each
Grand Trunk Hammock Tree Trunk Straps
Dimensions: 10 ft x 1 in.
Packed Weight: 12 oz/ 340 g
Weight Limit: 400 lbs/ 181 kg
Price: $29.99
When most of the hammock straps for camping are grey and black in colors Grand Trunk Hammock Tree Trunk Straps come exceptionally with the use of bright colors. Just like the way they look, they are made for best performance with 10 ft long each strap. This is one of the tree-friendly hammock straps; this is a good option with favorable features.
These are strong and lightweight being highly compatible with almost any anchor point. And with a daisy-chain suspension system and enough loops with 18 (on each strap) points for best adjustments, the setup of this hammock strap is easy. This works with almost all hammocks in the market including both the single and double models.
Product highlights:
Available in five different color options to match best with your hammock
Tree-friendly webbing
Maximally strong with triple stitched loops
Can use with almost all hammocks in the market (single and dual)
Lightweight and durable
Numerous adjustment points for easy setup
Lifetime warranty
ENO Helios XL Hammock Suspension System
Dimensions: 13 ft 4 in. x 1 in.
Packed Weight: 6.3 oz / 179 g
Weight Limit: 300 lbs / 136 kg
Price: $44.95
If you are always thinking about an incredibly lightweight option when going with hammock straps for camping, ENO Helios XL Hammock Suspension System will be a perfect match with only 6.3 oz. ENO hammock straps are always winning user reviews and this Helios XL is one best for ultralight campers.
This takes a Microtune adjustment system and features a no-knots-needed setup. And here the safety and durability are ensured with webbing made of 1000D polyfilament. If you are a backpacker, this is the lightest system by ENO with the best features covered.
Product highlights:
Made of lightweight materials to make it ultralight for backpackers
Durable and safe with the webbing of 1000D polyfilament
Longer hammock straps with 13 ft each
Microtune adjustment system for easier setup
Cord made from strong Silverlite material
Slightly pricier hammock straps in the market
Pys XL Hammock Straps
Dimensions: 10 ft x 1 in.
Packed Weight: 1.2 lbs / 522 g
Weight Limit: 1000 lbs / 454 kg
Price: $10.90
If you are thinking about high-weight capacity hammock straps with carabiners, Pys XL Hammock Straps is a perfect fit with support to heavy-duty carabiners. When combined they are 20 ft long and comes with enough length. This is a reinforced design that is heavier than some other models but in the other way can hold more weight than others. It is of 100- lbs weight capacity for which it is extremely worth paying.
These Hammock straps from Pys are made of durable Polyester and features a more natural look with camo colors. With no complex knots this is easy to use and system your entire hammock set up. And thanks to the compact build, it can easily pack with your gear and not stands on the weight side too. For its cheap price, this is a great option to trust to load more on your hammock.
Product highlights:
Very cheap to buy
Heavy-duty carabiners to increase weight capacity (only 12ft straps)
Lightweight and compact build
Unique and natural look with camo style
Slightly heavier product
Wise Owl Outfitters Talon Hammock Tree Straps
Dimensions: 12 ft x 1.0 in.
Packed Weight: 16 oz/ 453 g
Weight Limit: 500 lbs/ 227 kg
Price: $23.95
Wise Owl Outfitters Talon Hammock Tree Straps is one of the best tree-friendly hammock straps that are highly convenient and versatile. These USA-based quality hammock straps work well with all the hammock types including both single and double.
These own 38 combined daisy-chain loops owning a very friendly hang system with wide support to different adjustments. And with sufficient length, you can wrap them around the biggest trees with no fuss.
The webbing is made to be durable of non-stretching polyester and ensured strength with double-stitching. These are well-priced also being tree friendly hammock straps for which it is worth investing. No matter what plans you have in mind about hammocking, Wise Owl hammock straps will work the best packing the perfect specifications to match your comfort level.
Product highlights:
Highly convenient and versatile hammock straps for multiple uses
Compatible with almost all hammock models
Durable with premium polyester straps and reinforced stitching
Carabiners included for easy set up your hammock to a comfortable level
Comes with 38 daisy-chain loops (combined)
Tree-friendly width and decent length
Budget-friendly model
Best Hammock Straps for Camping Buying Guide
If you are planning for the highest joy in hammocking when camping next time, hammock straps are an essential piece of gear. Before investing, know the following facts to decide which going to work for you the best.
Hammock suspension system
The two main types of hammock straps are webbings and ropes. While there can be some other things as well, we find these two as the top in the market today.
Webbings/ straps:
Hammock straps made with webbings are tree friendly with increased surface area and they are purposely made to protect the tree bark. It put minimal pressure outside will stay tree-friendly causing no damage to inner layers. Generally, webbing straps are 1 to 2 inches in width and are of a polyfilament webbing to reserve a higher denier rating.
Ropes:
Ropes are old-fashioned and are exactly how they sound. They are lesser in weight as made of natural bound fibers but will stretch out every time you use them. And ropes are not tree-friendly as they put high pressure outside.
Hammock strap length and thickness
If you have more strap length, you can have more hanging options. Any option with not enough length has to be supported by anchors with confirmed the perfect match.
The thickness of the hammock straps is important in relation to how far they are tree-friendly. Thicker straps are made to last longer and think about an environmental-friendly option when you are going to be more loved by nature.
Maximum weight capacity
To feel high-safe when hanging, you should know the right weight capacity each hammock strap accepts. If you are a camping duo in love with hammocking, think about hammock straps that are safe to use with the weight of two. With a higher weight limit, you can definitely hang safer.
Hammock straps materials
Polyester and Nylon are the two main hammock strap materials we find and there is no wide choice there. And each of them has pros and cons.
Polyester: Straps made of polyester are less common as they could weigh more than the ones made of Nylon. But being less expensive, you can find Polyester in budget-friendly hammock straps
Nylon: Hammock straps made of Nylon are stronger and can be stretchable than polyester ones. But compared to polyester, Nylon is more used
Amount of attachment loops
With the right number of attachment loops only you can make the right benefit of the length of your hammock straps. To have the highest adjustability, you should choose hammock straps with enough connection loops on each strap.
Hammock Strap weight
If you are concerned about every extra ounce to get added to your gear, this is an important factor to consider. Finding lightweight hammock straps will be very important for backpackers as weight is the key aspect there. While many of the best hammock straps for camping today are lightweight, you can find one's weight less than 6 oz. for extreme satisfaction here.
Color of the hammock straps
This is not a key factor concern when buying the best hammock straps for camping. But when you are investing, think about a perfect match to your hammock in color and style. Most of the straps are in grey and black while you can satisfy with color perfection with options like Grand Trunk Hammock Tree Trunk Straps. They are durable and offer you some color variants too.
Are you going to be hammocking in your next camping; and then find the right set of hammock straps from the above list that is tested and highly reviewed.
Have a happy and safe hammocking!
Read More: