Feel enough sitting on the grounds? Want to elevate your next backpacking experience with better chilling and more comfortable? It is your time to reach backcountry luxury by taking the best ultralight backpacking chairs with adequate function and support. From many options out there we round up the top 9.
A good backpacking chair is a combination of many useful features. Make sure you check the key aspects including;
Lightweight: This is prior to all and good backpacking chairs should take less than 3lbs (1.4kg) weight
Durable: Should be made of quality materials to make you use them for a considerable time. This should be a one-time purchase for the number of trips
Strong and supportive: Make sure it is strong enough to bear your weight
Ultralight backpacking chair is an important piece of gear for those who prioritize comfort even in the wilds. Trust me; all of us love being comfortable as going wild is not always about getting rustic.
A lightweight, supportive and functional backpacking chair could save you from a lot of troubles. Here, the 9 best ultralight backpacking chairs are waiting to help you out.
Helinox Chair Zero
Weight: 1 lb
Price: $119.95
Helinox Chair Zero is one of the best ultralight backpacking chairs which is a "real" type of chair with enough comfort. It weighs just 1 pound and lifts you 11 inches off the ground on its solid aluminum frame. This folding chair packs small enough but is ready to hold up to 265 pounds.
The seat and carry sack of this backpacking chair is finished from durable, lightweight ripstop polyester. With that, it can fight back well with severe weather and UV rays. Cleaning is easy as it is totally machine washable. Not just for backpacking, it is also ideal for camping, biking, and hiking, or anywhere where weight is a key concern.
Product highlights:
Lightweight and compact
An extremely comfortable back support
Allows sitting 11 inches off the ground
Strong and packs small
Easy set up with single shockcorded pole structure
Expensive but worth for price
REI Flexlite Air Chair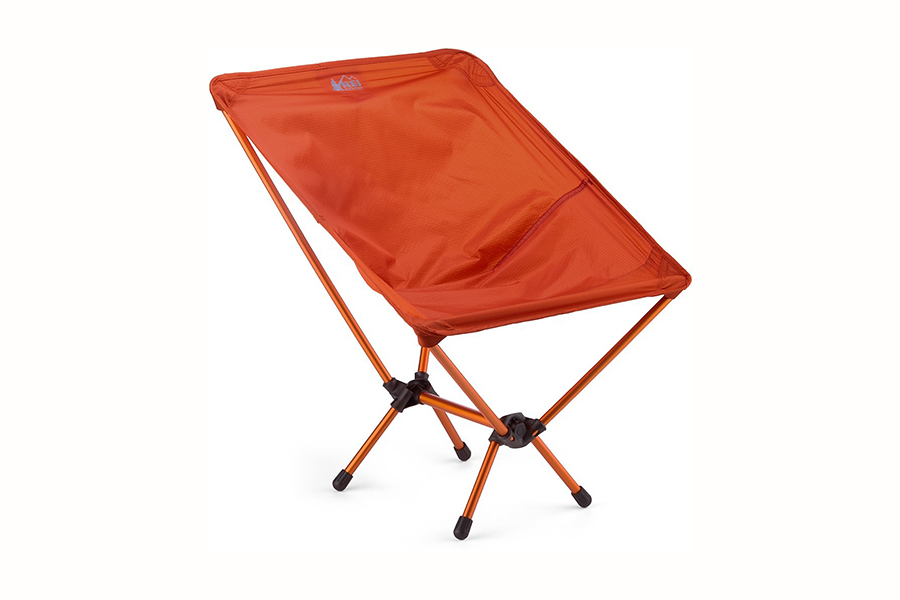 Weight: 1 lb
Price: $99.95
REI Flexlite Air Chair will just come adding one extra pound to your gear but a lot of comfort about sitting high and dry. Bringing extremely comfortable back support it comes with a ripstop nylon seat that is of a durable water repellent (DWR) finish.
This excellent lightweight chair can hold up to 250 pounds of weight and is strong enough with Aluminum frame construction. The included stuff sack is useful to pack down the chair small and take wherever you go. This is a light enough chair for backpackers which is also good for day trips with its high portability.
Product highlights:
Comfortable with right back support
Lightweight and compact backpacking chair
250 pounds of weight capacity
Easy to set up
Strong with Aluminum frame build
Available in color options
Slightly expensive but worth
Big Agnes Skyline UL Chair
Weight: 1 lb 12 oz
Price: $109.95
If you want to sit and relax high after a long day on the trail, the Big Agnes Skyline UL Chair is a great option. It is a lightweight and comfortable chair that is 275 pounds of weight capacity. Just as you know Big Agnes name for high comfortability, Skyline UL Chair is a very comfy model with more support and better height. Even it weighs a little more than a pound; this is a perfect option for a luxury rest above the ground.
The frame construction of the backpacking chair is ultralight aircraft aluminum. And its seat is made of 70-denier Robic nylon / ripstop nylon 66. It has made for a minimum weight and high durability. The waterproof UTS coating makes the fabric soft at the same time elevating tear strength.
Product highlights:
Highly comfortable and lightweight
Compact model that is easy to transport to any destination
Packs small
Easy set up with fully shockcorded construction
More stable seat with strong frame set up
Slightly pricier and heavier than some other models
Therm-a-Rest Trekker Chair Kit
Weight: 0.62 lb
Price: $39.95
Therm-a-Rest Trekker Chair Kit is a perfect option for those who are thinking more about minimal weight and being bulky when choosing your backpacking chair. This is a perfect blend of lightweight, compact, and comfortability at an affordable rate. This is different from other backpacking chairs as it needs NeoAir or a comparable sleeping pad (sold separately) to use this trekker chair. This involves some minutes as you should expand the sleeping pad and slip it up with the elastic sleeves to form it properly.
For those who are not strictly on sitting at a height, this going to work well. Bringing a super comfortable resting place for you also with the best back support, it comes under a very affordable price tag. So all you need is a neoair or self-inflating sleeping pad to make a luxurious resting place for you.
Product highlights:
Minimal weight and highly comfortable
Support neoair and self-inflating sleeping pads (should purchase separately)
Low price tag
Not good for short trail breaks as it takes some minutes to set up
Use with a ground cloth for better safety
REI Flexlite Chair
Weight: 1 lb 11 oz
Price: $59.95
REI Flexlite Chair is one of the best ultralight backpacking chairs concerned with its blend of comfort and durability. Thanks to its ripstop seat and tentlike frame structure, it easily passes the durability tests and can save some serious amount of cash too. If you are thinking about saving some money rather than extra weight, this will be a great option to try.
It comes with an updated seat preventing tension zones and will be a comfortable resting place for any body type. It is strong enough with the aluminum construction and support with an easier setup. The seat is of durable Water Repellent (DWR) finish making it ideal for outdoor use. This 4-leg designed chair is easy to carry with anywhere you go by folding down small in the included stuff sack.
Product highlights:
Comfortable chair with adequate back support
Lightweight and compact
Comes at an affordable price tag
Made of bluesign-approved polyester
Strong and durable with aluminum frame
Easy to set up
Available in color options
Leki TimeOut Chair
Weight: 1.9 lbs
Price: $93.99
Leki TimeOut Chair is coming in a very strong polyethylene seat with outsized mesh panels to give the maximum comfortable place for you for perfect relaxation. Adding more convenience, it features a built-in cup holder to make your relaxing times more valuable.
This folding chair is cleverly designed to set up just taking seconds. It is super comfortable, strong, and lightweight, and also stable with the highest foothold. It is a good option with extra grip thanks to its rubber teeth. Storage and transport are easy with the convenient storage bag of which the weight capacity is up to 320 lbs.
Product highlights:
Very strong, mesh seat for super comfort
High-strength aluminum construction for secured support
Lightweight and easy to set up
Storage bag for easy storage and transport
Cup holder built-in for added convenience
Rubber feet to add extra grip
Quality build with two color options
Travel Chair C-Series Joey Chair
Weight: 2 lbs
Price: $69.95
Compared with some other ultralight backpacking chairs on the list, Travel Chair C-Series Joey Chair is slightly weighed taking about 2 lbs. But from the price and comfortability concern, it does a great job. It comes in a classic foldable aluminum pole construction it is proven stable and strong bearing up to 275 lbs.
This is good for backpackers for its sturdy seat thanks to wide-leg and hub pole construction. So even on a rocky surface, you can take a break. With mesh seat, it provides higher ventilation and airflow making it one of the breathable options to take. If you are going in the summer, this will be a great pick for a fair price to have a great relaxation.
Product highlights:
Affordable price tag
Wide-leg and hub pole build for a sturdy seat
Slightly weighted but not too heavy
Higher ventilation with the mesh seat
Packs small to easy transport and storage
Slightly lower strength to weight ratio
Crazy Creek Hex 2.0
Weight: 1 lb 5.9 oz
Price: $58.50
Crazy Creek Hex 2.0 is one of the most versatile chairs on the list for those who are thoroughly concerned about the space and weight it takes. This is a perfect backpacking chair you can take that is also usable as a pad or mat for a different purpose. This is an adjustable seat with side straps making you comfortably sit in various positions
You find this chair extremely comfortable for you to rest well with high-density cored EVA closed-cell foam comes offering extreme insulation. All these come without adding bulk to the pack. The cover of the seat is made of a durable 210D coated ripstop nylon giving total protection from wet environments.
This is compact and easy to carry adding more value for its price. It can easily roll up trimly to only 4″ diameter, and its handy attached strap makes it easy to carry. With the built-in hanging loop, you can even clip it to a pack for more convenience.
Product highlights:
The versatile chair fits your needs and size
Good support to butt and back
Wide when open flat and can use as a pad or mat
Adjustable side straps for various sitting positions
Comfortable and durable
Super-easy for carrying being compact
Maximum insulation
Can hold up to 250 lbs
REI Trail Stool
Weight: 1 lb 2 oz
Price: $22.50
If you are thinking about getting off the ground but not with too much comfort, REI Trail Stool is a good option to sit on higher than most of the best ultralight backpacking chairs. It is 15 inches in seat height and comes strong enough in Aluminum frame construction.
If you are planning for short hikes or day trips, this folding stool is an ideal addition to gear which is very quick to get out and set to sit. Even it has no back support and comfort as much as a backpacking chair takes; it works well with low weight and compactness. Also, it is coming in a very affordable price tag verifying its suitability for best trail breaks.
Product highlights:
Weight capacity of 200 lbs with low weight
No back support and limited comfort
Quick set up
Extremely affordable product
Ideal for short hikes, day trips for best trail breaks
Includes ripstop polyester seat
15 inches seat height
Best Ultralight Backpacking Chairs Buying Guide
A backpacking chair is not essential in your gear like food, water, and shelter; but if you want it, you definitely should get it. Even it seems a simple piece of gear, for your trail breaks a good backpacking chair helps a lot. To keep it a minimum in weight but maximum in comfort, you will find a lot of techniques and need the right buying guide. Don't struggle; we bring you help.
From hundreds of different options out there in the market, you would find it quite tricky to take a shortened decision. Therefore, keep the following facts in mind when going to buy the best ultralight backpacking chairs to provide backcountry luxury.
Backpacking chairs vs seat pads
Backpacking seating systems are mainly under two as backpacking chairs and sitting pads.
Backpacking chairs: This is just like the standard indoor chair structure but reforming into a lighter, compact design with the idea of camping. These types of chairs allow you to sit off the ground in about 11 to 15 inches in height. And they come with back support to provide enough comfort to the user
Sit pads: This is for sitting on the ground but with extra comfort. You find the right insulation, super cushioning, and extra comfort here for a more affordable price tag. Under the seat pads, you find two subtypes like Folding clamshell-style and simple foam seat pads.
Folding clamshell-style
Lightweight and comfortable
Not much back support
Not find comfortable for taller people to sit for a longer period
Simple foam seat pad
Extremely lightweight
Offer no much back support
Limited comfort
Weight of the Backpacking chair
The concept of backpacking chairs is based on lightweight. No matter what you choose it should weigh less than 3 lbs (1.4 kg). Weight is one of the key concerns here as backpackers should carry their backpacks together with a lot of gear. So as long as you are choosing a super light option, you may feel comfortable throughout the journey and not even losing your backcountry comfort.
Maximum weight capacity
If you are choosing a backpacking chair and not on the side of a seat pad, weight capacity is one of the key features to take a closer look at. And usually, backpacking chairs have an upper-level weight limit that is around 300 lbs. This seems a fair enough capacity for most of the campers but make sure you check close with your decided model to know it precisely. In case if you put exceeding the limit, your chair may break causing a big loss.
The maximum weight capacity of a backpacking chair is less than compared of camping chairs. The main reason is lightweight materials are used and the design focus on compactness to keep it light as possible.
Lightweight and durable construction
If you are a backpacker, lightweight comes over all other considerations as you have to save space for many gears and should check for minimum weight for gear like a chair. And luckily, manufacturers maintain a good balance between lightweight and durability thinking about longevity at the same time portability.
Chairs with Aluminum legs are high in popularity in ultralight backpacking chairs for providing a great mix of durability and minimum weight. And for the seat, we commonly find either mesh or ripstop nylon. Those made of ripstop nylon are more durable but less breathable. But if you find the right blend of ripstop nylon and mesh, you will find both durability and breathability.
Packs up small and portable
Being lightweight is a very beneficial feature when choosing a backpacking chair and if it packs small, that is a super bonus. The ability to pack small makes it more portable and most of the best ultralight backpacking chairs are packing small to make it easily store and transport. Check whether there is an included stuff sack to pack it right within all camping gear.
While many backpacking chairs fold small clamshell-style models are not necessarily into it. But, as they are supported with carrying handles, they can attach outside of the backpack to save more storage space.
Manufacturer warranty
For a good backpacking chair, a manufacturer warranty is a must. And fortunately, most of the models are now coming with a warranty considering a reasonable lifetime of each product.
A good backpacking chair could be used for 5 to 10 years if you camp occasionally. But if you are a regular type of camper, 2 to 5 years is the estimated lifetime of a backpacking chair. Seat-pad style chairs are having a 5 to 10 years warty period regardless of regular or occasional use as they use breakable parts and also last much longer than others.
Backpacking is fun and takes a lot of activities; then why just sit on the ground? Pack the right backpacking chair that is ultralight, portable, and worth the price.
Read More: