In your camping gear list, a camping stove has a solid place as it is essential to get ready with your meals when outdoors. But are you really ready for it? Cooking when outdoors sounds easy and indeed interesting with plenty of options, but that involves a lot of camping stove safety precautions and tips. When planning your next trip to the mountains, be sure that you know everything about camping stove safety.
Never make use of the camping stove inside the tent
Make sure of the working condition of the stove
Set up the camping stove in a flat ground/ surface
Make sure the stove is properly attached to its fuel source
Never leave the stove unattended
Be attentive when lighting the camping stove
Is that all; No, there are more to go! To ensure your safety at the campsite and leave no chance for mishaps with the camping stove, we bring you some essential tips here. If you are a keen outdoor adventurer, these will mean a lot to make you cook your own meals safely. Make your next trip to the mountains extra special with more delicious meals, we help you here on how to use a camping stove safely.
Never make use of the camping stove inside the tent
Most importantly, prevent taking your camping stove inside the tent and prevent a chance for a giant mischance. Even if you are stuck inside your camping tent for longer and starving, cooking inside your tent should never take action. Pack sufficient snacks and instant meals as much as possible if there is any chance for bad weather for cook outside at where you plan to tent in.
The reason why you should never bring your camping stove inside the tent is because of its natural production of carbon monoxide. This can build up to a poisoning stage and can bring the chance of fatal conditions. When you cook outside in the open air, this poisonous gas is diluted by air and brings no harm. There, even if your tent is too spacious, never cook inside the tent as you should take your health a priority.
Make sure of the working condition of the stove
You will find a wide range of Camping Stoves by today with various different things to consider when buying. In fact, there are many types of lightweight stoves now in the market taking portability a priority over the long run. And there can be various issues at any unexpected time causing you massive safety problems. The best way you can avoid troubles during your outdoor stay is checking well on the working conditions of your camping stove at the same time keeping it cleaned.
Different types of stoves need different attention on specific areas. If you are using a larger liquid fuel stove, it should be cleaned regularly and should grease some parts to maintain its performance. But if you are using a small canister stove, just make sure the stove is free of dirt and grime before you start working with it.
Note: For any advanced maintenance tips, make sure you contact the manufacture for the specific stove
Set up the camping stove in a flat ground/ surface
If you are planning your journey to a rocky campsite like Shenandoah National Park, it is a real challenge to find a perfect surface to set up your camping stove. But if you take camping stove safety a priority, it is essential to find a flat surface to set up your camping stove properly. Never leave a chance to tip over while cooking and lead to burns and more injuries.
Finding a super flat surface is not always easy but sticks with it for your camping stove safety. We recommend you use a suitable camping table for added convenience. But if you haven't any, look for flat ground to set it up safely. Especially if you have kids around, the setting up of the stove is very important to consider rather than being sorry.
Make sure the stove is properly attached to its fuel source
Regardless of the kind of camping stove you are using, it is very important to ensure that you have attached your stove properly to its fuel source. Any incorrect attachments could lead to fuel leaks causing the chance for a fire. For your safety, double-check on the stove attachment to its fuel source before you light up. If you find any difficulty in setting up, make sure you look for help through the manufacturer of your stove.
Never leave the stove unattended
In the past, we have heard of major wildfires caused by camping stoves. An unattended stove is always a chance for danger as it can cause fire easily. Just like when you are at home, do not leave the stove unattended. At any time you are going away from the stove, turn it totally off and relight when you need it. Especially if you are camping with kids, make sure you take the right precautions.
Be attentive when lighting the camping stove
From lighting up the camping stove, you should pay the highest attention to safety. There are some camping stoves with an inbuilt igniter system and some need camping lighters to start a fire. Regardless of which side you are on, there are a few things you should consider when lighting the camping stove.
Most importantly, do not get too closer to the camping stove when you are lighting it up. Especially keep your hands and face distant enough to prevent the chance of burns. And remember to use the most effective camping lighter effective in the setting you are camping especially with the weather around.
Do not use the camping stove on inflammable surfaces
Just as much as setting up your camping stove on a flat surface it is essential to make sure the surface is not inflammable. Make sure you avoid placing the stove on grass, twigs, and dead leaves that are highly flammable.
In general, cooking on these types of inflammable surfaces should avoid. But in case if you have no other option than to place your stove on grass, keep going with extra safety measures. Have some water ready on your side to use at any emergency spark before it develops into a disastrous fire.
Locate stove fuel and canisters away from the campfire
Camping stove fuel is extremely inflammable and makes sure you locate them properly when you are not using the stove. Be certain not to keep fuel bottles and canisters near the campfire with the high chance of fire. And as pressurized fuel canisters can get exploded if they are too exposed to heat, make sure you place them adequately distant from the campfire.
Carefully pack fuel in your backpack
As you might have already aware, camping stove fuel is highly poisonous and should take extra care of when you include them in your backpack. If you are car camping, this takes lesser trouble as you have space to work with. But if things are all packed into a single pack, you should be highly cautious.
The most important thing to note here is fuel spills that can pollute your camping food. There, prevent the chance for a fuel spill and pack up things in the right manner. And be sure you put food above where you packed fuel to prevent the chance of contaminations even at an accidental fuel spill.
Take purpose-built windscreens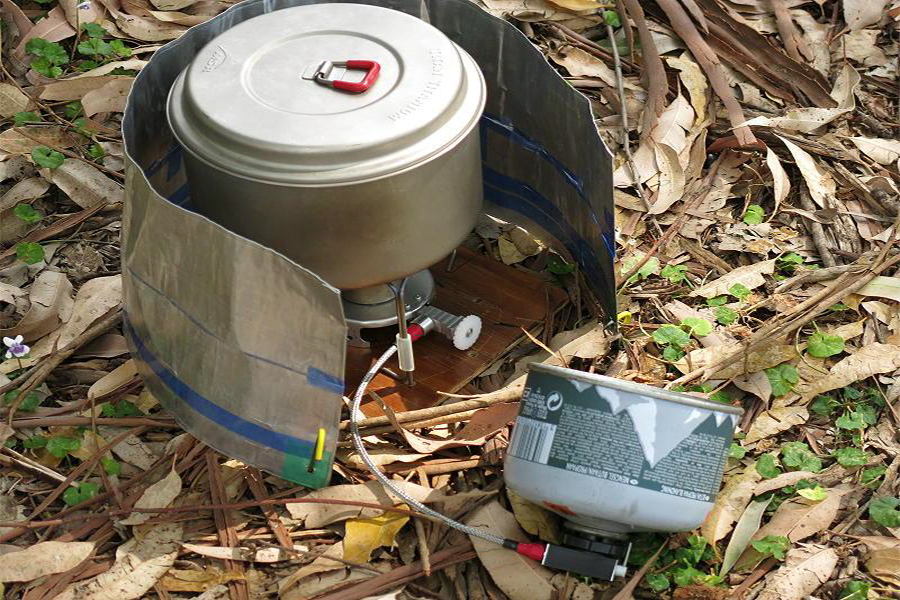 In order to upgrade the performance, some camping stoves are supported with windscreens. But it is worth it only if they are purpose-built windscreens as makeshift kind of could make trouble. Especially avoid these makeshift windscreen models use around canister stoves. This can make the temperature of the canister high leading to an explosion.
Clean the camping stove after every use
Only if you take proper care, your camping stove will perform its highest when every time you need it. Therefore, make it a habit to clean your camping stove properly after every use to keep it fully clean to get its best. Even if you are not using the stove regularly, you have to take a look at the stove often to keep it in good condition.
Let the camping stove gets totally cooled down to pack it back
After you are done preparing your meals, it is vital to pack your stove away. But you have to wait for some extra minutes giving time for your camping stove to get cool down.
Packing it away in a hurry even when it is still hot can easily cause burns to you and your mates. And if it meets fuel in the pack, it can cause fire leading to small explosions. Rather than putting yourself in danger, wait some extra minutes and pack it back when it is completely cool.
Go with manufacturers' instructions for high camping stove safety
Together with every tip above, you have to follow up with the manufacturer's instructions when using your camping stove. The manufacturer knows the piece of product to the best and the words will help from start to pack up. And there are some camping stoves much advanced in the setup and must go with the guidelines.
Why to wait to plan more with camping meals; here you have the right precautions. 
Read More: